Best Opinion Trading apps like Probo are new versions of fantasy apps where you can share what you think will happen. If you believe India will win against New Zealand in a match or predict who will win in the Rajasthan 2023 elections—BJP or Congress—or even guess if Malika Arora will hit 5m followers on Instagram by October 20, 2023, you can vote or bid on these things. It's like guessing what's going to happen and putting your thoughts out there to see if you're right. Check our Latest Dream11 Team Prediction
We'll look at the Top 5 Best Opinion Trading Apps in India like Probo, where you can play and earn a lot of money based on your skills. Here Is the list of Opinion trading apps free to Download
Opinion Trading Apps Like Probo
As India is using more digital stuff, ways to make money online are also growing. Remember how Dream11 came? People began making money by playing fantasy sports using their skills. Now, apps like Probo are doing something new. They're adding opinion trading. It's like giving your thoughts on things related to sports, entertainment, or money, and you might earn from it. There are other apps too, just like Probo, where you can use your skills to make money by sharing your opinions.
Probo: Best Opinion Trading App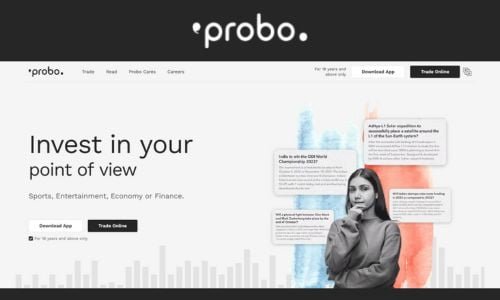 Probo stands as an opinion trading platform enabling users to earn by forecasting future events. It offers a space to trade opinions across diverse topics like entertainment, sports, Bitcoin, and finance, allowing users to monetize their predictive insights.
They simply choose an opinion and trade with a "YES & NO"; successful predictions result in winning amounts. It's a straightforward process where users leverage their insights to predict outcomes, potentially earning rewards for accurate trades.
| Features | Probo |
| --- | --- |
| App | Probo |
| Probo App Download (APK) | Probo App Download |
| Probo Referral Code | None |
| Invite/Referral Bonus | Rs 25 |
| Signup Bonus | Rs 25 |
Features of Probo Opinion Trading App
Live Trading: Trade in real-time.

Different Topics: Sports, news, finance, and entertainment to trade on.

Quick Cash-Outs: Get your money fast.

Great Deposit Deals: Best offers for adding money.

Huge Giveaways: Win prizes worth 20 lakhs.

For Everyone: Works on Android and iOS.
SportsBaazi: opinion Apps Like Probo

Hey, fantasyexpertnews.com readers! Exciting news: we've got a fresh New Fantasy Sports app for you. Meet Sportsbaazi, previously known as Ballebaazi, a top-tier online gaming platform in India. Renowned for its extensive sports offerings, it caters to various betting and gaming needs. You'll find a diverse range of sports like cricket, football, tennis, and kabaddi, catering to enthusiasts' preferences. What's more, it now also features opinion trading, adding another dimension to its engaging offerings. Sportsbaazi presents an opportunity not just for sports betting but also for those looking to express their opinions and predictions on various events. Get ready for an all-in-one platform that combines your favorite sports betting with the thrill of expressing your insights
SportsBaazi Referral Code 2023
| App Name | SportsBaazi |
| --- | --- |
| SportsBaazi Referral Code | FREEPLAY |
| SportsBaazi App Link: | Download Now |
| SportsBaazi Sign Up Amount | ₹100 |
| SportsBaazi Referral Amount | ₹100 |
| Minimum Withdrawal | ₹200 |
Real11 – Best opinion trading app India
Real11, a top pick among countless sports fantasy enthusiasts, remains a trusted favorite. Recently, it rolled out some exciting additions like Ludo, Snakes and Ladders, and Opinion Trading, which became a massive hit during IPL2023 and World Cup 2023. Among these, Opinion Trading stood out. It's touted as the best opinion trading app in India, allowing users to not only play cricket and other games but also voice their opinions and make predictions. This fantastic feature showcases Real11's commitment to offering a diverse and thrilling experience for everyone who loves fantasy games.
Signup Reward: Get 50Rs as a welcome bonus upon signing up.

Reasonable Commission: The platform charges a fair commission.

Live Predictions & Opinion Leagues: Engage in live fantasy predictions and opinion-based leagues.

Live Opinions & Polls: Participate in live opinions and polls for every league match.

Second-Inning Contests: Join contests for the second innings of matches.

Instant Withdrawals: Quick withdrawals available throughout the day.

Leaderboards: Compete on leaderboards across various leagues.

Customer Care Support: Access excellent customer support.

Referral Benefits: Earn decent real cash benefits through referrals.

Batball11 Fantasy App: Opinion Trading Apps in India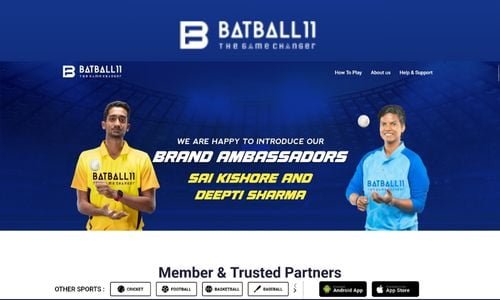 Batball11 Fantasy App offers more than just fantasy sports like cricket, basketball, football, and kabaddi. Alongside these sports, it also has an Opinion Trading feature similar to Probo, where you can predict outcomes and earn. What's more, the app goes beyond sports with games like Ludo, carrom, Rummy, Sheep Fight, and Call Break, giving you chances to earn money from home by playing these games. It's a diverse platform that combines sports, predictions, and various games for an entertaining and potentially rewarding experience.
| Details | Links |
| --- | --- |
| Batball 11 APk Download | Batball11 Apk |
| Batball 11 IOS App (iPhone Users) | Batball11 Apk |
| Batball11 Referral Code | FREEPLAY |
| App By | Batball11 Fantasy |
| Minimum Withdrawal | 200Rs |
Fantafeat App: opinion trading apps without investment
Fantafeat Fantasy is a leading fantasy sports app in India, allowing users to earn money by showcasing their sports knowledge. It offers a wide array of fantasy sports such as cricket, football, kabaddi, basketball, and hockey. Additionally, it hosts entertaining games like sheep fight, carrom, ludo, and call break. Not just that, Fantafeat features Opinion Trading, named TradeX in-app, enabling users to trade and earn based on simple yes or no predictions. This app, akin to Probo, launched in 2019, stands out with features like 2nd Inn fantasy cricket, multiple fantasy sports, instant withdrawals, and an engaging gaming experience for users seeking both sports excitement and diverse gaming options.
Features Of Fantafeat App
2nd Inn Fantasy Cricket: Engage in cricket gaming even during the second innings of matches.

Multiple Fantasy Sports: Enjoy a wide array of fantasy sports including cricket, football, kabaddi, basketball, and hockey.

Variety of Games: Explore entertaining games like ludo, carrom, and others for a diverse gaming experience.

Opinion Trading (TradeX): Participate in opinion trading within the app, adding an exciting dimension to your gaming involvement.

Instant Withdrawals: Access your earnings swiftly with instant withdrawal options, ensuring a seamless user experience.

Absolutely, apps like Fantafeat, Sportsbaazi, Batball11, and Real11 share similarities with Probo, offering users opportunities to earn through Opinion Trading. These platforms have diversified the gaming landscape, combining fantasy sports, prediction-based trading, and sometimes even casual games like Ludo and Rummy.
Overall, these apps exemplify the growing trend of platforms that enable users to monetize their sports knowledge and predictive skills through Opinion Trading, providing a new dimension to the gaming and trading landscape in India.
Opinion Trading Apps Similar to Probo?
Probo is an opinion trading app where users trade predictions on real-world events. Similar apps include Fantafeat, Sportsbaazi, Batbal11, and Real11.
What are opinion trading apps?
Opinion trading apps are platforms where users can buy and sell opinions or predictions about various events or outcomes in sports, politics, finance, entertainment, and more.