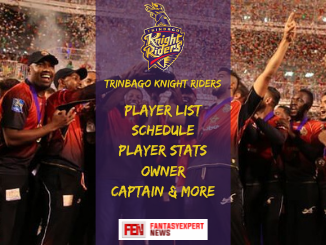 Trinbago Knight Riders is a franchise cricket team of the Caribbean Premier League based in Port of Spain, Trinidad, and Tobago. The team is participating in CPL since the first season and is one of the teams created in the inaugural 2013 season of the Caribbean Premier League. Let's Checkout Guyana Amazon Warriors CPL 2021 Team Squad, Players Stats, Owner, Captain, Jersey, Twitter link.
The Trinbago Knight Riders are the most successful team in Caribbean Premier League. They win Four CPL Titles in just 8 Seasons of the Caribbean Premier League. Last year they finished the league stage at top of the points table without losing any match. St Lucia Zouks vs Trinbago Knight Riders Played the final Match of the CPL 2020. Trinbago Knight Riders defeated St Lucia Zouks in the final and win another title of the Caribbean Premier League.
Trinbago Knight Riders CPL 2021 Team Squad & Player List
Kiron Pollard is the current captain of Trinbago Knight Riders who leads the side since last year. And in the previous season TKR win another title under Pollard captaincy. The Trinbago Knight Riders formerly known as the Trinidad and Tobago Red Steel own by Red Chillies Entertainment, the parent company of Kolkata Knight Riders (IPL Team). and Red Chillies Entertainment led by Bollywood star Sharukh Khan and Jay Mehta (Husband of Juhi Chawla).
The former Captain of Trinbago Knight Riders is Dwayne Bravo and TKR won three titles under Bravo leadership but in this season he will play for St Kitts and Navies Patriots. Trinbago Knight Riders Jersey Colour is Red, Purple, and Yellow. So check it out below the current Team Squad & Player List of Trinbago Knight Riders CPL 2021.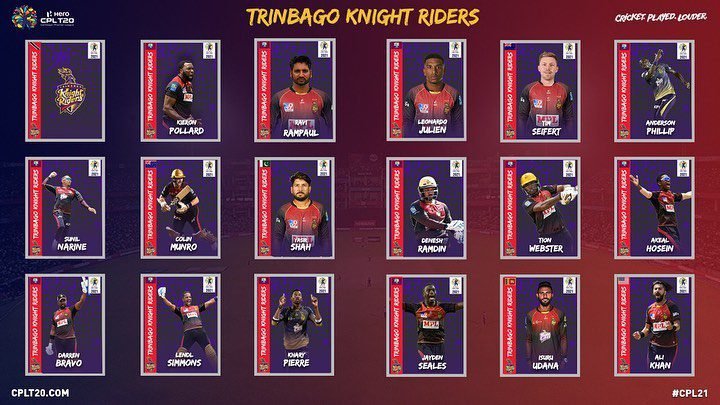 KIERON POLLARD
RAVI RAMPAUL
SUNIL NARINE
COLIN MUNRO
TIM SEIFERT
DARREN BRAVO
LENDL SIMMONS
KHARY PIERRE
ISURU UDANA
YASIR SHAH
ANDERSON PHILLIP
DENESH RAMDIN
TION WEBSTER
AKEAL HOSEIN
JAYDEN SEALES
LEONARDO JULIAN
ALI KHAN
Team Squad: Kieron Pollard (c), Denesh Ramdin, Tim Seifert, Sunil Narine, Colin Munro, Darren Bravo, Lendl Simmons, Khary Pierre, Anderson Phillip, Tion Webster Akeal Hosein, Jayden Seales, Ali Khan, Ravi Rampaul, Isuru Udana, Leonardo Julien, Yasir Shah.
The latest announcement regarding the change of squad members was the addition of Yasir Shah to the Trinbago Knight Riders team. The Pakistan leg-spinner replaced Sandeep Lamicchane of Nepal in the final squad of the defending champions.
---
Also Read: Guyana Amazon Warriors CPL 2021 Team Squad, Players Stats, Schedule, Owner, Captain, Jersey, Twitter link
---
Trinbago Knight Riders Player Stats and Record
Career T20 Stats of Trinbago Knight Riders Players
Most Runs
| | | | | | | | | |
| --- | --- | --- | --- | --- | --- | --- | --- | --- |
| Player | Mat | Inns | Runs | HS | Ave | SR | 100 | 50 |
| Colin Munro (T20I) | 65 | 62 | 1724 | 109* | 31.34 | 156.44 | 3 | 11 |
| Lendl Simmons (T20I) | 66 | 65 | 1508 | 91* | 27.41 | 123.4 | 0 | 9 |
| Kieron Pollard (T20I) | 88 | 71 | 1378 | 75* | 24.6 | 137.93 | 0 | 6 |
| Tim Seifert (T20I) | 35 | 32 | 695 | 84* | 24.82 | 133.14 | 0 | 5 |
| Denesh Ramdin (T20I) | 71 | 50 | 636 | 55* | 18.7 | 115.42 | 0 | 1 |
| Darren Bravo (T20I) | 21 | 19 | 345 | 43* | 19.16 | 106.48 | 0 | 0 |
| Tion Webster (T20D) | 14 | 14 | 273 | 66* | 27.3 | 106.64 | 0 | 1 |
| Isuru Udana (T20I) | 35 | 25 | 256 | 84* | 18.28 | 137.63 | 0 | 1 |
| Sunil Narine (T20I) | 51 | 23 | 155 | 30 | 10.33 | 112.31 | 0 | 0 |
| Leonardo Julien (List A) | 8 | 8 | 146 | 83 | 18.25 | 75.25 | 0 | 1 |
| Khary Pierre (T20I) | 10 | 5 | 17 | 9* | 8.5 | 73.91 | 0 | 0 |
| Ravi Rampaul (T20I) | 23 | 6 | 12 | 8 | 12 | 57.14 | 0 | 0 |
| Yasir Shah (T20I) | 2 | 1 | 11 | 11* | – | 157.14 | 0 | 0 |
| Ali Khan (T20D) | 39 | 3 | 11 | 8 | 5.5 | 91.66 | 0 | 0 |
| Anderson Phillip (T20D) | 14 | 3 | 3 | 2* | 3 | 25 | 0 | 0 |
| Akeal Hosein (T20I) | 6 | 1 | 2 | 2 | – | 66.66 | 0 | 0 |
| Jayden Seales (T20D) | 6 | 1 | 1 | 1* | – | 100 | 0 | 0 |
Most Wickets
| | | | | | | | | |
| --- | --- | --- | --- | --- | --- | --- | --- | --- |
| Player | Mat | Inns | Overs | Wkts | BBI | Ave | Econ | SR |
| Sunil Narine (T20I) | 51 | 49 | 183.3 | 52 | 4/12 | 21.25 | 6.01 | 21.1 |
| Ali Khan (T20D) | 39 | 39 | 127.3 | 40 | 3/22 | 27.52 | 8.62 | 19.1 |
| Kieron Pollard (T20I) | 88 | 54 | 123.1 | 38 | 4/25 | 27.34 | 8.42 | 19.4 |
| Ravi Rampaul (T20I) | 23 | 23 | 82.5 | 29 | 3/16 | 24.31 | 8.51 | 17.1 |
| Isuru Udana (T20I) | 35 | 32 | 105.1 | 27 | 3/11 | 33.88 | 8.7 | 23.3 |
| Anderson Phillip (T20D) | 14 | 13 | 31.2 | 9 | 3/38 | 33.44 | 9.6 | 20.8 |
| Jayden Seales (T20D) | 6 | 6 | 13 | 8 | 2/21 | 17.87 | 11 | 9.7 |
| Khary Pierre (T20I) | 10 | 10 | 28 | 7 | 2/44 | 38.42 | 9.6 | 24 |
| Lendl Simmons (T20I) | 66 | 5 | 7.1 | 6 | 4/19 | 12 | 10.04 | 7.1 |
| Colin Munro (T20I) | 65 | 12 | 19.3 | 4 | 1/12 | 46.5 | 9.45 | 29.5 |
| Yasir Shah (T20I) | 2 | 2 | 4 | 0 | – | – | 9.75 | – |
| Akeal Hosein (T20I) | 6 | 3 | 8 | 0 | – | – | 9.75 | – |
| Tion Webster (T20D) | 14 | 1 | 1 | 0 | – | – | 9 | – |
| Darren Bravo (T20I) | 21 | – | – | – | – | – | – | – |
| Leonardo Julien (List A) | 8 | – | – | – | – | – | – | – |
| Denesh Ramdin (T20I) | 71 | – | – | – | – | – | – | – |
| Tim Seifert (T20I) | 35 | – | – | – | – | – | – | – |
---
Trinbago Knight Riders Player Stats in CPL 2020
Batting Stats
| | | | | | | | | |
| --- | --- | --- | --- | --- | --- | --- | --- | --- |
| Player | Mat | Inns | Runs | HS | Ave | SR | 100 | 50 |
| Lendl Simmons | 11 | 11 | 356 | 96 | 39.55 | 122.33 | 0 | 3 |
| Darren Bravo | 12 | 9 | 297 | 58* | 59.4 | 115.11 | 0 | 3 |
| Colin Munro | 8 | 8 | 207 | 65 | 34.5 | 133.54 | 0 | 2 |
| Kieron Pollard | 11 | 7 | 207 | 72 | 51.75 | 204.95 | 0 | 1 |
| Tion Webster | 7 | 7 | 147 | 44* | 29.4 | 98.65 | 0 | 0 |
| Sunil Narine | 5 | 5 | 144 | 53 | 28.8 | 148.45 | 0 | 2 |
| Tim Seifert | 12 | 9 | 133 | 39* | 22.16 | 109.91 | 0 | 0 |
| Akeal Hosein | 7 | 1 | 12 | 12 | 12 | 75 | 0 | 0 |
| Kharry Pierre | 10 | 1 | 10 | 10* | – | 200 | 0 | 0 |
| Jayden Seales | 6 | 1 | 1 | 1* | – | 100 | 0 | 0 |
| Anderson Phillip | 2 | – | – | – | – | – | – | – |
| Ali Khan | 8 | – | – | – | – | – | – | – |
Bowling Stats
| | | | | | | | | |
| --- | --- | --- | --- | --- | --- | --- | --- | --- |
| Player | Mat | Inns | Overs | Wkts | BBI | Ave | Econ | SR |
| Ali Khan | 7 | 7 | 27 | 10 | 3/14 | 15 | 5.55 | 16.2 |
| Kharry Pierre | 10 | 10 | 32.1 | 9 | 3/18 | 23.88 | 6.68 | 21.4 |
| Akeal Hosein | 8 | 8 | 20.1 | 8 | 2/25 | 18.75 | 7.43 | 15.1 |
| Jayden Seales | 6 | 6 | 13 | 8 | 2/21 | 17.87 | 11 | 9.7 |
| Kieron Pollard | 11 | 6 | 20 | 8 | 4/30 | 18.87 | 7.55 | 15 |
| Sunil Narine | 5 | 5 | 20 | 6 | 2/19 | 15.16 | 4.55 | 20 |
| Anderson Phillip | 2 | 2 | 4.2 | 1 | 1/3 | 27 | 6.23 | 26 |
| Tion Webster | 7 | 1 | 1 | 0 | – | – | 9 | – |
| Colin Munro | 8 | – | – | – | – | – | – | – |
| Darren Bravo | 12 | – | – | – | – | – | – | – |
| Lendl Simmons | 11 | – | – | – | – | – | – | – |
| Tim Seifert | 12 | – | – | – | – | – | – | – |
---
Recent Performance of TKR Players
| | | |
| --- | --- | --- |
| Player | Style | Recent Performance |
| Kieron Pollard | RHB/RAM | #, #, 13, 22, 11+0/12 |
| Ali Khan | RHB/RAFM | 0/26, 1/34, 1/10, 3/0, 2/4 |
| Darren Bravo | LHB/RAM | 18, 0, 2, 5, 30+0/1 |
| Akeal Hosein | LHB/LOD | #, #, 0/30, #, 3+1/29 |
| Leonardo Julien | LHB/WK | 19, 14, 0, 4, 18 |
| Colin Munro | LHB/RAMF | 45, 7, 6, 41, 33 |
| Sunil Narine | LHB/ROS | 14+0/28, 4+1/22, 1+3/11, 1/41, 19+0/19 |
| Anderson Phillip | RHB/RAFM | 3+3/47 & 0/20, 0/43, 2/40, 2/41, 1/37 |
| Khary Pierre | LHB/LOD | 0/36, 1/23, 1/22, 0/20, 2/29 |
| Denesh Ramdin | RHB/WK | 27, 17, #, 10, 1 |
| Ravi Rampaul | LHB/RAFM | 0+0/40, 1/15, 1/55, #, 0+0/40 |
| Jayden Seales | LHB/RAFM | 0* & 2*+3/70 & 5/55, 0 & 7+1/44 & 1/34, 0* & 3+3/75, 1*+3/42 & 1/23, #+3/40 |
| Lendl Simmons | RHB/RAMF | 9, 21, 72+0/16, 15, 30+0/1 |
| Isuru Udana | RHB/LAMF | 0/7, 1+0/32, 8+0/27, 0+1/55, 19+1/25 |
| Tion Webster | RHB/RAM | 5, 44, 41, 20, 5+0/9 |
| Tim Seifert | RHB | 14 & 19, 9, #, 19, 4 |
| Yasir Shah | RHB/LBG | 0 & 4 + 0/46 & 0/13, 8 & 23+0/54 & 1/56, 38* + 3/54 & 4/79, 4 & 0+3/113 & 0/21, 18 & 8+3/54 & 2/55 |
Trinbago Knight Riders Scheduled CPL 2021
---
TRINBAGO KNIGHT RIDERS Owner, Captain, Jersey Color, Twitter Link
Owner: Shahrukh Khan, Jay Mehta, Juhi Chawla
Captain: Kieron Pollard
Head Coach: Brendon McCullum
Home Ground: Queen's Park Oval and Brian Lara Cricket Academy
CPL Titles: 4 Titles (2015, 2017, 2018, 2020)
Twitter Link: @tkriders (114.2K followers)
Instagram Link: tkriders (147K followers)
Jersey Color: Red, Black, Purple, Gold
---
Performance Seasons by Seasons
| | | |
| --- | --- | --- |
| Year | League standing | Final Position |
| 2013 | 4th out of 6 | Semifinalists |
| 2014 | 3rd out of 6 | PlayOffs |
| 2015 | 3rd out of 6 | Champion |
| 2016 | 4th out of 6 | Qualifier |
| 2017 | 1st out of 6 | Champion |
| 2018 | 1st out of 6 | Champion |
| 2019 | 4th out of 6 | Qualifier |
| 2020 | 1st out of 6 | Champion |
---
Results Summary
| | | | | | | | |
| --- | --- | --- | --- | --- | --- | --- | --- |
| Year | Played | Wins | Losses | Tied | NR | Win % | Position |
| 2013 | 8 | 3 | 5 | 0 | 0 | 37.50% | 4/6 |
| 2014 | 10 | 6 | 4 | 0 | 0 | 60% | 3/6 |
| 2015 | 13 | 8 | 4 | 0 | 1 | 61.54% | 3/6 |
| 2016 | 12 | 6 | 6 | 0 | 0 | 50% | 4/6 |
| 2017 | 13 | 10 | 3 | 0 | 0 | 76.92% | 1/6 |
| 2018 | 13 | 9 | 4 | 0 | 0 | 69.23% | 1/6 |
| 2019 | 12 | 5 | 6 | 0 | 1 | 41.67% | 4/6 |
| 2020 | 12 | 12 | 0 | 0 | 0 | 100% | 1/6 |
| Overall | 93 | 59 | 32 | 0 | 2 | 63.44% | |
Click Here to Get Daily Fantasy Cricket Tips and Dream11 Team Prediction