PHI vs MEM Dream11 Team Prediction | NBA Scrimmage | Philadelphia 76ers vs Memphis Grizzlies Match Prediction | Fantasy Basketball Prediction
PHI vs MEM Dream11 Team Prediction | NBA Scrimmage | Philadelphia 76ers vs Memphis Grizzlies Match Prediction – Hey guys what's going and as we all know NBA is back we are so excited about it so guys from today we will provide you all key points, stats and player's in-depth details and it will help you to build a good and strong Dream11 fantasy team.
Match details
Competition: NBA scrimmage:-
Match: Philadelphia 76ers vs Memphis Grizzlies
Time: 25 July 2020, 1 a.m.(IST)
Venue: Orlando
PHI vs MEM Match Preview
Guys this is not official matches these all matches are practice matches so you can expect less intensity in these types of matches and one more thing all the stars players won't play more than 20 minutes because it is risky after all they are coming from a long break so guys select your dream11 team properly.
Now let's talk about this match 76ers have two of the best young talent in their line ups in the name of Ben Simmons and Joel Embiid. Before the pandemic break, the 76ers were struggling to find their form and they were looking shaky and their new players like Al Horford and co struggled to find their role but this break would have helped them to gel with their teammates and the coach of 76ers would have used this time to reshuffle his tactics. On the other hand, Memphis Grizzles were fighting for a play-off spot and they looked like the team who could get 7th or 8th spot and Jao Morant is their best player in this season so a young team with lots of potentials might be dark horse in this season of NBA.
PHI vs MEM Team News:
Philadelphia 76ers
They are a dark horse in the Eastern Conference and they have the potential to play in NBA finals but there is some concern about Embiid's health and Simmon's three-point shooting but on their day both players have the potential to lead their side to victory, and it will be interesting to watch how Joel will survive in this Bubble as we all know about the character of embiid.
Injury News:-
1. Zhaire Smith(Injured)
2. Ryan Broelhoff(Injured)
Memphis Grizzles:
The grizzlies team has some key players in their team and on their day they can surprise anybody in this league.
Injury News:-
1. Jontay Porter(Injured)
2. Justise Wimslow(Injured)
3. Brandon Clarke(Injured)
4. Jaren Jackson Jr(Doubtful)
PHI vs MEM Top Fantasy Picks
PHI
Ben Simmons:- Ausssie Born Point guard might play in different positions as Coach of 76ers announced that they are working with Simmons to play as a Small Forward so let's see what happens.
Player's Stats:
1.Points per game:- 16.7
2.Assists per game:- 8.2
3.Rebound per game:- 7.8
4.Steals per game:- 2.1
Joel Embiid:- A player full of potential and he is probably one of the best big men in today's NBA, he can shoot 3, he can defend, he can protect the rim so he is a valuable asset to this 76ers team.
Players Stats:
1.Points per game:- 23.4
2.Rebound per game:- 11.8
3.Block per game:- 1.3
MEM
Ja Morant:- I think he should win the rookie of the year award as he has played outstandingly well in this season and he deserves this award.
Player's Stats
1.Points per game:- 17.6
2.Assists per game:- 6.9
3.Rebounds per game:- 3.9
Jolan Valanciunes:- Center of the grizzlies team will have a tuff task to match Joel Embiid's plays but he won't back down from this challenge.
Player's Stats:-
1.Points per game:- 14.9
2.Rebound per game:- 11.2
3.Assists per game:- 1.8
PHI vs MEM Probable Lineups
Philadelphia 76ers
PG: B.Simmons
SF: T.Harris
PF: Al Horford
C: J.Embiid
SG: J.Richerdson
Memphis Grizzlies
PG: J.Morant
SF: K.Anderson
PF: Jaren Jackson Jr
C: J.Valanciunes
SG: Dillon Brooks
PHI vs MEM Dream11 Team For Head to Head League
PHI vs MEM Dream11 Team For Grand League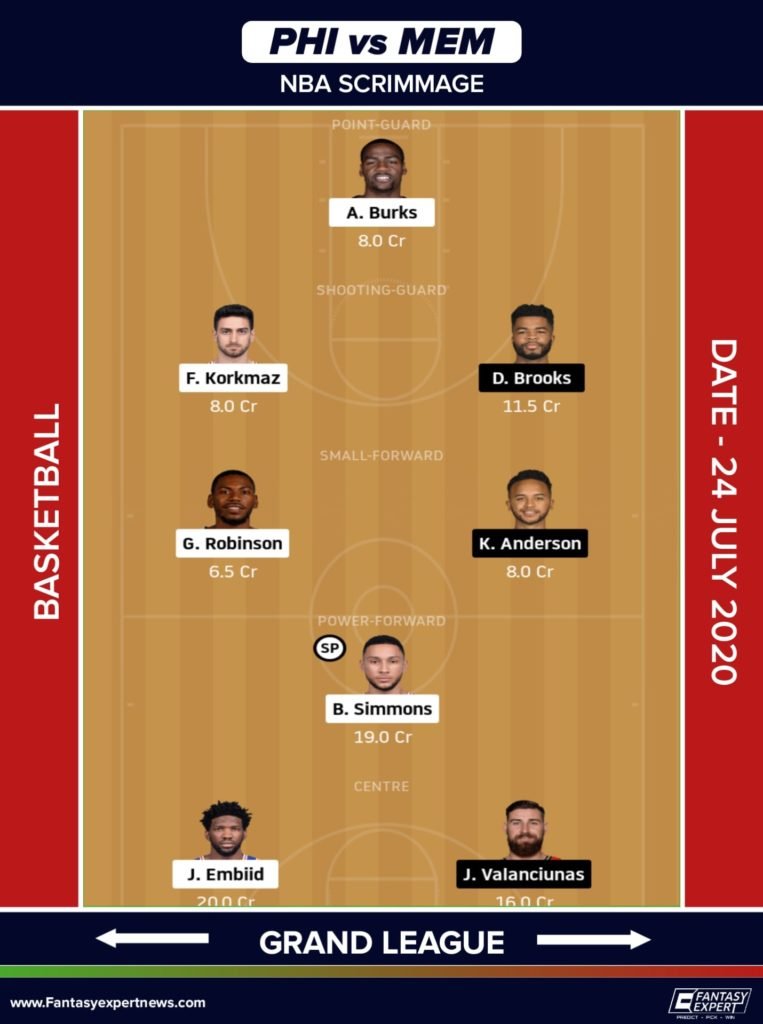 Star Player's Choice:- B.Simmons, J.Embiid, Ja Morant, T.Harris