LAL vs LAC Dream11 Prediction | NBA 2020-21: Lakers vs Clippers Basketball Prediction | LAL vs LAC Dream11 Team Prediction | Los Angeles Lakers vs Los Angeles Clippers Player Stats and Records | NBA Dream11 Prediction | LAL vs LAC Dream11 Team Today
LAL vs LAC Dream11 Prediction | NBA 2020-21: Basketball Prediction
Match Details:
Match: Los Angeles Lakers vs Los Angeles Clippers
Date: 23-Dec-2020
Time: 8:30 A.M. (IST)
Stadium: Staples Center, Los Angeles
LAL vs LAC Match Preview:
After just 72 days, the NBA is back and I hope all of you are as excited as me for another rollercoaster ride of the NBA season 2020-21.
On opening Night of the NBA season 2020-21,Two city neighbors will face each other in the battle of Los Angeles as Defending Champions Lakers will go head to head against Clippers at Staples Center.So it can't get any bigger than this as two of the powerhouses of NBA will collide against each other and it is likely that we might get to watch some exciting action of Basketball.
Los Angeles Lakers vs Los Angeles Clippers Team News:
1. Los Angeles Lakers:
Current NBA Champions will begin their title defence on opening Night as they face Clippers at Staples Center and it can not get better than this for Lakers as they will get the Ring ceremony before the match and banner no.17 will be raised in the Staples center.
Lakers have dream offseason as they won their 17th NBA title, Anthony Davis Signed 5-year contract extension, Lebron James extended his contract till 2023, Kyle Kuzma Signed 3-year deal and with all this, the icing on the cake for the Lakers was the free agency signing of
Montrezl Harrell, M.Gasol, W.Matthews, and D.Schroder as these additions to the roster have made Lakers clear favourites to win back to back titles.
As we say in English Rich get Richer this line is perfectly applies on the Current NBA champions as Lakers has Best duo in the League in the Name of A.Davis and L.James but now they have the Best bench duo in the league as the current 6th man of the year M.Harrell and Runner of of 6th Man award D.Schroder both have made Lakers Roster by far the best roster in the league.
Injury News:
1.D.Schroder (Doubtful)
2. Los Angeles Clippers:
After their disappointing 2nd round exit from the play-offs last Year, Clippers have made some changes in their roster as well as in their coaching staff.Clippers have given the coaching role to last year's assistant coach T.Lue and with him K.Atkinson and C.Billups have joined the Clipper's backroom staff.
Clippers are the second best team in the Western conference but there's too much gap to fill between them and their City Rivals Lakers as Lakers are clearly better team in the league but Free agent S.Ibaka and L.Kennard have signed the deal with the Clippers but the departure of M.Harrell will surely hurt them in their Championship pursue.
Injury News:
1.P.Patterson (Doubtful)
2.M.Morris (Doubtful)
Full Roster of Both teams.
1. Los Angeles Lakers:
Lebron James (F)
Anthony Davis (F-C)
Costas Antetokonmpo (F)
Cacok Devontae (F)
K.Caldwell-Pope (G)
Alex Caruso (G)
Quinn Cook (G)
Jared Dudley (F)
M.Gasol (C)
Montrezl Harrell (F-C)
Talen Horton-Tucker (G)
Kyle Kuzma (F)
Wesley Matthews (G)
A.Mckinnie (F)
Markieff Morris (F)
Dennis Schroder (G)
2. Los Angeles Clippers:
Nicolas Batum (G-F)
P.Beverley (G)
Amir Coffey (G-F)
Paul George (F)
Serge Ibaka (C)
Reggie Jackson (G)
Luke Kennard (G)
Kawhi Leonard (F)
Daniel Oturu (C)
Terence Mann (G-F)
Jay Scrubb (G)
Lou Williams (G)
Ivica Zubac (C)
P.Patterson (F)
Marcus Morris (F)
Mfioundu Kabengele (F-C)
LAL vs LAC Player Stats and Top Picks
Key Players for Lakers:
1. Anthony Davis: Davis has just signed a 5 Year Deal with the Lakers and we witnessed in last year's playoffs how good he can be. Davis is now entering in his prime and I think in this season he will surpass L.James for the best player in the Lakers Uniform and even L. James Knows this thing that A.Davis is now the key player for the Lakers. With his size and length, he is force to reckon with, and his defensive ability to protect the rim gives the Lakers a huge advantage over any team in the league.
2. Lebron James: Do I need to introduce this guy to you no I don't think so and even no words are enough to compliment him I think he is one of the greatest players in the history of basketball and even in his 18th season in the league he is still the best player on the planet so I have no words to say rather than appreciating his greatness.

Key Players for Clippers:
1.Kawhi Leonard: After last year's meltdown in 2nd round exit, 2 Time Finals MVP will want to prove everyone in this season that he is still one of the best players in the league.
2.Paul George: This season will be a redemption season for PG13 and he is motivated to prove everyone wrong. He has just signed a 4 year deal with the Clippers and now his main focus will be to play on a MVP level and will try to help his teammate Leonard in pursuing NBA title.
Lakers vs Clippers Starting 5 (Predicted)
1.Los Angeles Lakers
1.L.James (PG)

2.A.Davis (PF)

3.K.Caldwell-Pope (SF)

4.W.Matthews (SG)

5.M.Gasol (C)
2.Los Angeles Clippers
1.P.Beverley (PG)

2.Nicolas Batum (PF)

3.K.Leonard(SF)

4.Paul George (SG)

5.I.Zubac (C)
LAL vs LAC Dream11 Prediction
1.L.Williams (PG)
2.K.Caldwell-Pope (SG)
3.K.Leonard (SG)
4.W.Matthews (SG)
5.K.Kuzma (SF)
6.A.Davis (PF)
7.M.Morris (PF)
8.M.Gasol (C)
LAL vs LAC Dream11 Prediction Team Today#1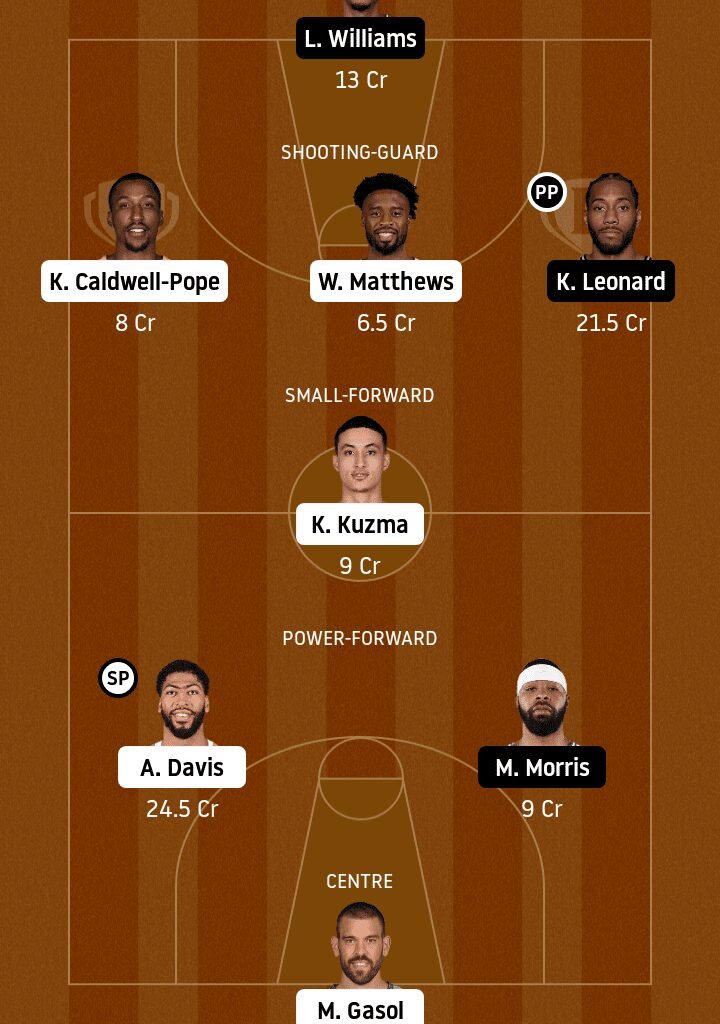 LAL vs LAC Dream11 Prediction Team Today #2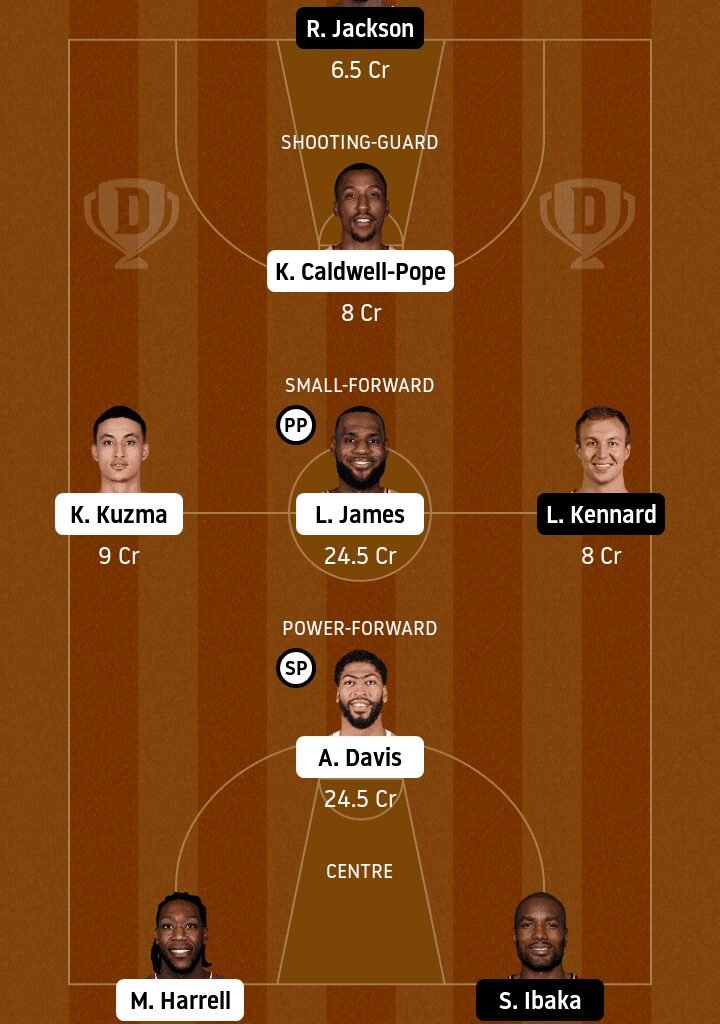 Top Picks for Dream11 Star player:
1.A.Davis
2.L.James
3.K.Leonard
Top Picks for Dream11 Power player
1.M.Harrell
2.P.George
3.L.Williams
4.K.Kuzma