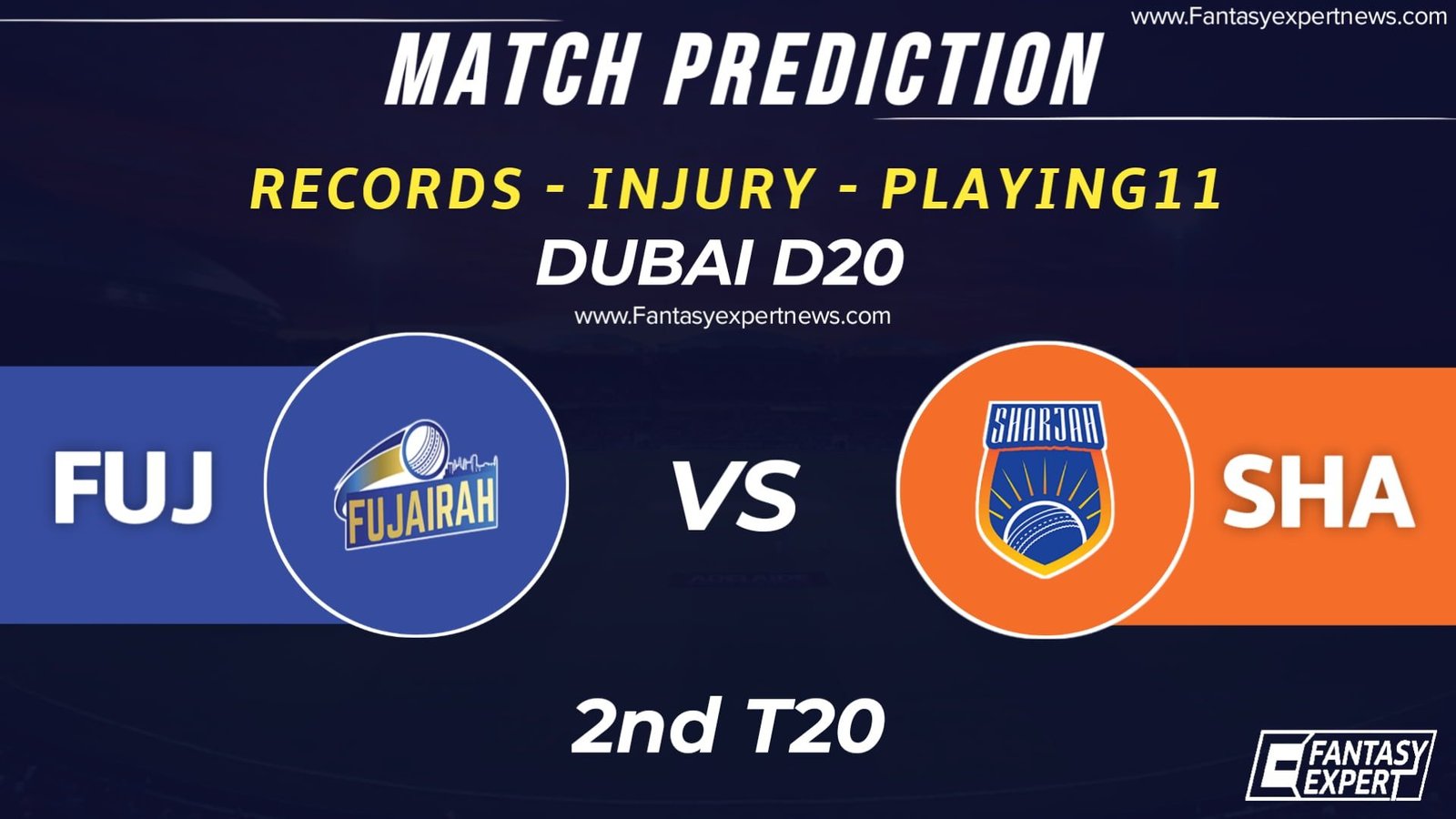 FUJ vs SHA Player Stats and Records | Dream11 Emirates D20 | Dream11 Team Prediction
FUJ vs SHA Player Stats and Records | Dream11 Emirates D20 | Dream11 Team Prediction, Fujairah vs Sharjah Dream11 Prediction, Playing11 and Top Fantasy Picks
Today in this article we will provide you Player stats and Records of Dream11 Emirates D20-T20 and Dream11 Team Prediction of Today's Dream11 Team Prediction. Today's Dream11 Match will be played between Fujairah vs Sharjah.
Match Details
Match: Fujairah vs Sharjah
Competition: Dream11 Emirates D20 – T20
Time&Date: 6th November 2020, 06:30 PM (IST)
Venue: Dubai International Stadium
Match Preview
After the success of the inaugural Emirates D10 tournament a few months ago during the Covid -19, the Emirates Cricket Board announced another edition of the Domestic T20 Tournament which is known as the Emirates D20.
Fujairah will take on Sharjah in Match 2 of the Emirates D20 Tournament, 2020 on Sunday, 6 December 2020 at 6:30 PM (IST).
Weather Report
The weather condition is perfect for this match and there are no chances of rain during the match however, the temperature will be hovering around 28 degrees Celsius.
Pitch Report
The pitch of the Dubai Cricket Ground is a good batting pitch and pacers get more assistance from the pitch and the track provides some help to spinners later in the match.
T20 Domestic
Total Match Played: 93
Batting First Won: 38
Batting Second Won: 54
Tie: 1
Avg. Score in 1st bat: 155
Highest Score: Sunrisers Hyderabad 219/2
Lowest Score: Lahore Qalandars 59/10
Scoring Pattern
Below Score 150: 33
The score between 150 and 169: 29
The score between 170 and 189: 21
Score Above 190: 10
---
Also Read: BBL 2020-21 Squads, Teams, Fixtures, Live Streaming | All details you need to know
---
Both Teams Squad
Fujairah
Hamdan Tahir, Muhammad Umar Arshad, Waseem Muhammad, Usman Khan, Sandeep Singh, Lovepreet Bajwa, Rohan Mustafa, Muhammad Farooq, Muhammad Naeem, Ahmed Raza, Akif Raja, Maroof Merchant, Sabir Rao, Laqman Hazrat, Aayan Khan, Hassan Khalid.
Sharjah
Muhammad Boota, Nathan Shibu, Renjth Mani, Fayyaz Ahmed, Khalid Shah, Yuvraj Barua, Faisal Khan Baraki, Umair Ali, Kashif Daud, Badiuzzama Sayed, Mohammed Halan Harris, Hafeez Rahman, Faisal Altaf, Arslan Javed, Krishan Paul.
FUJ vs SHA Player Stats and Records
Fujairah Player Stats
| NAME | MAT | INN | RUNS | AVG | F/H | WK |
| --- | --- | --- | --- | --- | --- | --- |
| Hamdan Tahir | 21 | 10 | 94 | 9.40 | | |
| Muhammad Umar Arshad (Career) | 28 | 22 | 642 | 33.79 | 3f/1h | 5 |
| Waseem Muhammad (T10) | 13 | 13 | 453 | 41.18 | 4f | 2 |
| Usman Khan | 14 | 7 | 68 | 17.00 | – | 10 |
| Sandeep Singh (T10) | 10 | 10 | 126 | 12.60 | – | – |
| Lovepreet Bajwa | 12 | 7 | 238 | 39.66 | 2f | 1 |
| Rohan Mustafa (T20I) | 42 | 41 | 762 | 19.54 | 3f | 44 |
| Muhammad Farooq | 6 | 2 | 6 | 3.00 | – | |
| Muhammad Naeem (Career) | 31 | 26 | 369 | 16.04 | 1f | 13 |
| Ahmed Raza (T20I) | 41 | 16 | 99 | 11.00 | – | 29 |
| Akif Raja (Club T20) | 16 | 5 | 4 | – | – | 15 |
| Maroof Merchant (T20+T10) | 7 | 4 | 82 | 41.00 | – | 7 |
| Sabir Rao | 17 | 8 | 58 | 9.67 | – | 18 |
| Laqman Hazrat (T10) | 13 | 8 | 86 | 28.67 | – | 11 |
| Aayan Khan (1 Day) | 7 | 5 | 64 | 21.33 | – | 10 |
| Hassan Khalid | 16 | 3 | 14 | 12.0 | | 21 |
Ajman Player Stats
| NAME | MAT | INN | RUNS | AVG | F/H | WK |
| --- | --- | --- | --- | --- | --- | --- |
| Muhammad Boota (RHB/RAM) (T10) | 12 | 10 | 147 | 16.33 | – | – |
| Nathan Shibu (Club 1 day) | 21 | 21 | 464 | 25.77 | 2f | – |
| Renjth Mani (T10) | 12 | 12 | 339 | 33.90 | 3f | 4 |
| Fayyaz Ahmed (LHB/LAO) (T10) | 12 | 11 | 207 | 29.57 | 2f | – |
| Khalid Shah (T10) | 11 | 11 | 147 | 14.70 | – | – |
| Yuvraj Barua (1 day) | 6 | 6 | 151 | 30.20 | 1f | 9 |
| Faisal Khan Baraki (1 day) | 6 | 6 | 141 | 23.50 | 1f | – |
| Umair Ali (RHB) (T10) | 12 | 9 | 187 | 26.71 | 1f | 16 |
| Kashif Daud (T10) | 12 | 9 | 59 | 11.80 | – | 9 |
| Badiuzzama Sayed (T20's) | 9 | 6 | 8 | 2.00 | – | 7 |
| Mohammed Halan Harris (1 Day) | 3 | 1 | 4* | – | – | 3 |
| Hafeez Rahman (T10) | 6 | – | – | – | – | 2 |
| Faisal Altaf (Career) | 100 | 56 | 631 | 16.18 | – | 74 |
| Arslan Javed (1 Day) | 3 | 3 | 89 | 44.5 | – | 2 |
| Krishan Paul (Club T20) | 7 | 4 | 17 | – | – | 14 |

FUJ vs SHA Probable Playing11
Fujairah Playing11
Muhammad Umar Arshad(wk), Waseem Muhammad, Rohan Mustafa, Sandeep Singh, Lovepreet Bajwa, Muhammad Naeem, Muhammad Farooq, Ahmed Raza, Laqman Hazrat, Sabir Rao, Hassan Khalid
Sharjah Playing11
Renjth Mani, Fayyaz Ahmed, Umair Ali, Nathan Shibu, Muhammad Boota (wk), Kashif Daud, Yuvraj Barua, Badiuzzama Sayed, Faisal Altaf, Hafeez Rahman, Krishan Paul,
FUJ vs SHA Top Fantasy Picks
Fujairah
Waseem Muhammad
Rohan Mustafa
Ahmed Raza
Muhammad Farooq
Sharjah
Renjth Mani
Fayyaz Ahmed
Muhammad Boota
Umair Ali
FUJ vs SHA Dream11 Team Prediction For Small League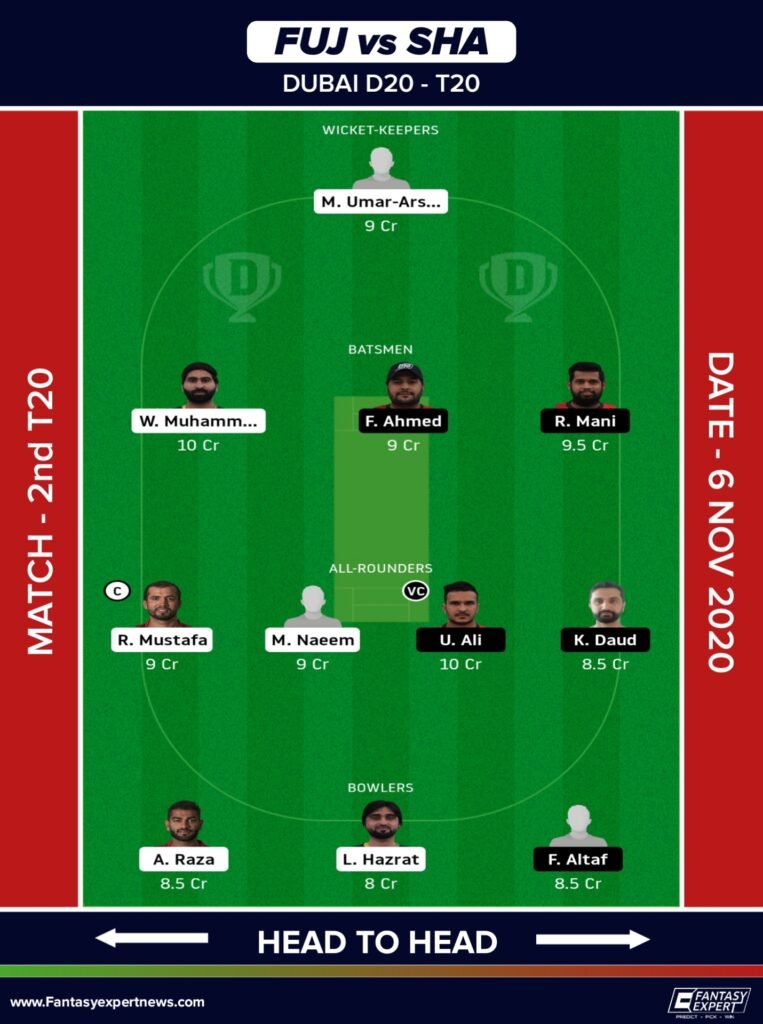 FUJ vs SHA Dream11 Team Prediction For Grand League